Perfect for cash budgeters who LOVE to save!
Budget Binder Book makes money saving and budgeting so fun.One for yourself and one for your family budgeting.Help save money for next year!Or as you save money for a vacation. car. emergency fund. debt payoff. birthdays or anything!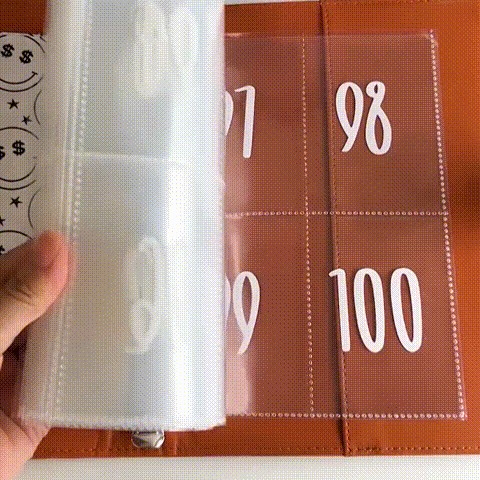 This 100 Envelope Savings Challenge™ is your personal financial assistant. Save $2,020 - $5,050 in no time with this unbeatable method for success! Begin the challenge, and save up any amount you like into envelopes step by step. Track your achievements and witness your savings increase. This effective visual representation of your progress makes it simple to stay motivated.
Taking charge of your financial future through this savings challenge. You can even give one to your kids to educate them about the importance of saving money. Savings challenges serve as an enjoyable and interactive method to manage your finances!
📒💰WHY DO CUSTOMERS LOVE THE 100 ENVELOPE SAVINGS CHALLENGE™:
✔ Save Faster Than Ever Before - Feel the thrill of boosting your savings like never before with this 100 Envelope Savings Challenge™. No more slow progress – it's time for a new chapter of financial growth. It gets you really motivated and zooms you towards your goals faster than ever.
✔ Simple to Begin Saving - With this 100 Envelope Savings Challenge™ don't worry about challenging financial planning – this folder makes it easy. It helps you start on the path to money safety without any problems.
✔ For Family/Teach Kids Early - If you're a mom, dad, grandparent, or guardian, this 100 Envelope Savings Challenge™ teach your kids in your family learn smart money habits when they're still little. They'll feel more confident about money.
✔ Interactive Savings Sheets - These special sheets aren't just instructions – they're like a map to help you succeed. You can easily follow them to reach your goals, keep track of how far you've come, and get inspired along the way. This makes you even more excited and motivated to do well.
✔ Easy Progress Tracking - You can see your progress easily with this 100 Envelope Savings Challenge™. Every time you open an envelope and reach a goal, you feel really proud. It doesn't matter if you're saving for something soon or something far away – the folder helps you stay on track.
SPECIFICATION
Material: leather
Size: 23.4*17.5cm
Matching: transparent inner side*25
PACKAGE:
1 PC * Budget Binder Book
CUSTOMER EXPERIENCE FROM MICHAEL ⭐⭐⭐⭐⭐:
As a parent, teaching my kids about money has been tough. This isn't just for my money but also helps my kids learn good money habits. The habit tracker makes saving fun for my family. The picture pages help us talk about our goals. It brought us together and helps ma and my kids with money! So far we've saved $1000 for a family vacation!
CUSTOMER EXPERIENCE FROM JENNIFER ⭐⭐⭐⭐⭐:
I was skeptical at first, I wanted to get better with my money. I work hard for what I earn. I started and saved an amazing $300 extra in the first month! It feels great to see it grow in this binder. I'm going to keep going for sure and recommend to my friends who want to save up.
OUR 100% SATISFACTION GUARANTEE
99.3% of our customers recommend the 100 Envelope Challenge Binder™ which you get with a 14-day risk-free guarantee.

If for any reason you do not have a positive experience, we will do EVERYTHING to make sure you are 100% satisfied with your purchase.

If you are not satisfied with the 100 Envelope Challenge Binder™, we will provide you with a suitable solution thanks to our satisfaction guarantee.

We have 24/7/365 email support. Contact us if you need any help